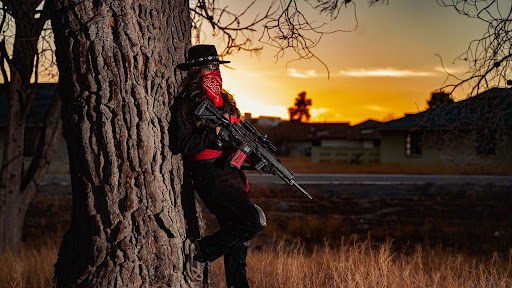 One of my favorite loadouts is the modern day cowgirl. I created this look for a Desert Fox Events game in 2019, and ended up loving it so much that I have used it several times since then.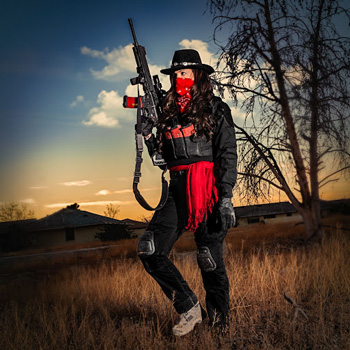 I took inspiration from one of my favorite western movies, "Tombstone". I love the black trenchcoat look of the lawmen, but I also appreciated the flair of the cowboys and Johnny Ringo. Since this is airsoft and we can create loadouts based on fantasy, not reality, I decided to meld the two characters into one modern-day cowgirl look.
As part of this loadout, I wanted a reliable, long-range, modern airsoft gun. I have also never been super interested in upgrading my airsoft guns once I purchase them, as I am a firm believer that we should be able to buy high-quality airsoft guns and use them straight out of the box. It's my humble opinion that we shouldn't need to upgrade our guns until they break, which should theoretically be years after purchase. The airsoft industry has really stepped up their game in this manner. I remember when I first started playing airsoft, the only way that you could have a reliable, long range, high-quality gun was to upgrade it.
Thankfully, that is no longer the case. Elite Force is known for making high-quality guns, and the HK brand has always been popular among airsofters due to its use in the United States military. Keeping all this in mind, I picked the HK M27 as the platform to use for this loadout. It's nice to have an airsoft gun that can function as a DMR, but can all be used in the assaulter role (although I wouldn't recommend it for room clearing.) One of my friends, Evike Matt, has had an M27 for as long as I've known him (7ish years) and it has always been a favorite of his, so I thought I'd give the platform a try.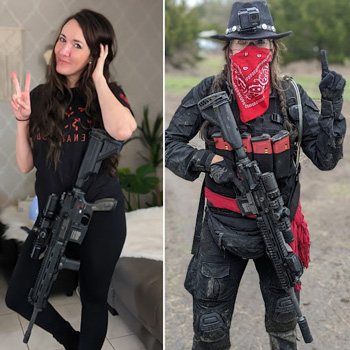 I LOVED IT. Loved it, loved it, loooooooved it. The first event that I used it at was at a large outdoor game in Texas, at 878 Airsoft. This field was perfect for my first fielding of the gat, as the 65 acre field provides lots of different terrain - rivers, ponds, small hills, and several buildings, vehicles, and structures for cover. I was delighted to be able to accurately range targets across fields, ponds and river banks.
Here's the proof, including lots of fun, and the full loadout, wrapped up in a video: Boomer OWNED by Ninja Cowgirl! (Airsoft Milsim) feat. Reventian and Ronin from GMR
Having fun in airsoft is the most important aspect of the hobby, and getting first-rate performance from your airsoft gun absolutely helps to make the experience.
Since the M27 is used by the US military, it iis also perfect for the more "hardcore" milsim events, where loadout accuracy is emphasized. At Milsim West: Strike on Salsk, held at Battlesprings Ranch in Overbrook, OK, I used the M27 in the DMR/Assaulter role, allowing me to get the full range experience of this airsoft gun. It performs flawlessly on full-auto, while still allowing for long range accuracy.
I've now had the HK M27 for two years, and it has become one of my favorite airsoft guns in my vast armory. It has gotten the most playing time out of any of my airsoft guns, and I can't see it getting usurped anytime soon.
By: Leah Del Castillo (Unicorn Leah) unicornmilitia.com