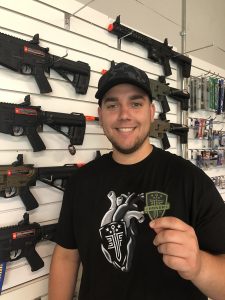 Between August and September 2017, Hurricane Harvey cost America's 125M in damages. Making its way inland, Harvey dropped catastrophic amounts of water in the Huston area causing severe flash flooding which destroyed thousands of homes and businesses. Although hundreds of community outreach programs sent aid, there had to be something more as a nation we could do to help. During that time Preston Roberts, owner of ACS Airsoft in Paducah KY found a way to help, and did so!
Preston went on to use his business at the forefront of his campaign to give back. ACS Airsoft raised over $800 through raffle ticket sales and donations to deliver what was estimated as $20,000-$25,000 worth of new clothing. These clothing items came from his grandfather's store, which had closed shortly after his grandfather's death one-year prior. These articles of clothing consisted of mostly jeans from premier manufacturers such as Levi, Carhartt, and Lee's.
Preston and two volunteers drove the 12-hour trip to Houston to hand deliver these articles of clothing to a Mayor sanctioned drop off location for families in need. Thousands of Houston citizens may have had little to no clothing including essentials such as underwear or socks. Preston made the effort to make sure these individuals got these essentials.