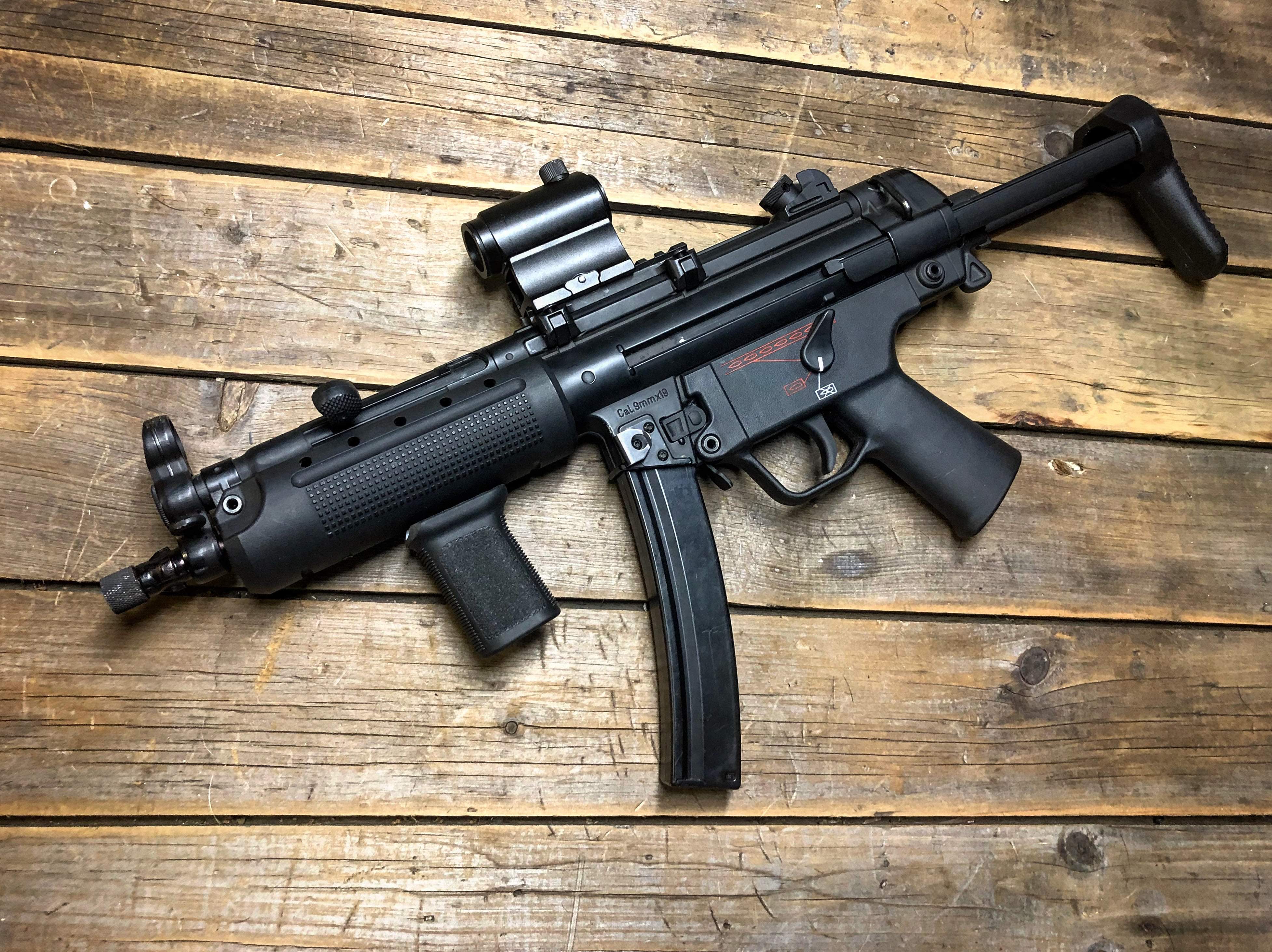 An Underrated Airsoft Platform
Elite Force was nice enough to ask me if I would write a blog post for their fabulous new website. After saying yes, I realized not only have I never written a blog post, but that I wasn't sure where to even begin. A few days later after someone asked me numerous questions about my current favorite AEG replica, it dawned on me. MP5! I need to tell everyone about my beloved MP5A5 because I feel it is a drastically underrated platform in this day and age. And luckily it's also an Elite Force Airsoft product, which is OEM by VFC and available in both MP5A5 (Retractable Stock, front wired) and MP5A4 (rear wired, full stock) variants. So hooray, I have a blog Idea!
Under the Hood of the MP5 Right Out of the Box
Both of the EF MP5 flavors come with the fancy new QC spring Avalon Gearbox. Out of the box mine chrono'd in at right around 1.4J with a .32 BB (right around 390 FPS with a .2 BB) which is right in line with what they market it as… and we all hate when it shows up and says 400, and it's more like 320, just saying… thank you VFC and EF QC Department (inserthighfive.gif). Shooting with .32 BBs outdoor, it had a really nice range and grouping out of the box. I was getting a solid 80 yards effective range consistently during my testing. Stock hop-up can be accessed via the charging handle upfront, and when released, provides that crisp H&K slap sound we all know and love. Running this bad boy will kinda make you feel like Bruce Willis in Die Hard, so be warned. Toss an 11.1v EF Butterfly lipo battery in the stock handguard, and you will be on your way to a nice crisp trigger response as well. This is thanks to the Avalon Gearbox having the fancy new Mosfet system inside.
Mod the HK MP5 to Make It Yours
So, out of the box, this bad boy is awesome…..but we are Airsofters so we like to tinker, and make everything our own. That's where this little SMG Replica (Super Magnificent Gun.. or Sub-Machine Gun, or whatever) really starts to shine. The stock solid body with metal upper and poly lower like the real boy is compatible with many of the current aftermarket accessories on the market. So you can easily tailor this to suit your needs. Want an optic? Grab a RIS mount for the top. Just like the real steel H&K MP5 the upper receiver has the mounts to clamp on a small RIS rail to suit your optic needs (I really like the T1 style or EOTECH Style myself). The stock handguard has a nice feel as well, but I know many people like hand stops, foregrips, lights, etc. upfront. Well here comes the part you can really make it your own… the handguard has enough space, that with a drill and some imagination, you can add rail segments to it, or even foregrips and hand stops of the M-LOK or Keymod variety. All you need to do is drill a few small holes and start adding accessories to make this suit all your needs. Luckily the bottom of the handguard has a small line perfectly down the center so you can center those holes you're drilling. Aftermarket rail options are also in M-LOK, Keymod and RIS flavors. So, want to be like Bruce Willis ….. go grab an MP5 replica.
Thanks for Reading,
Victor
Callsign_Dad
https://www.instagram.com/callsign_dad/