A few years back I received my first initiation into force-on-force airsoft war. Actually, it was 11 or 12 years ago I think. Yikes. I'm getting old. My second experience wasn't long after, but it wasn't as an active member of a squad.
Getting Prepared for Your First Airsoft Game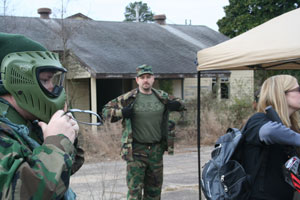 First things first, I needed airsoft gear. I had nothing. No airsoft gun. No BBs. Not even a piece of appropriate camo or combat clothing, I mean a BDU (battle dress uniform). An AEG was loaned to me along with a couple of extra mags. I don't even recall for sure what it was, but think I remember it being an HK. Given the number of years back probably a HK MP5 rifle. I picked up some BBs from Elite Force. I figured out I was assigned to a side-- green camo is about all I understood at the time. I didn't know the lingo and didn't serve in the military so I was a bit behind in that area of knowledge. With an airsoft rifle, Elite Force BBs, and a battery and charger secured it was off to the local Army surplus store with a friend who knew the ropes.
[ Check out this guy's first gaming experience ]
The Old Dilapidated Army Hospital Airsoft Field
The field of play was at an old military hospital on decommissioned Army property. That place was dilapidating at best. The airsoft event organizers of what was called Operation Ball Drop III obtained permission of course. Just short of one hundred people showed. I was amazed. I had no idea that many people where I lived were into airsoft skirmish events. The age range varied from 16 up to I'd guess 35 or so. Most were in their 20's. The safety briefing forbade us to breach certain areas and hallways because the floor was collapsing.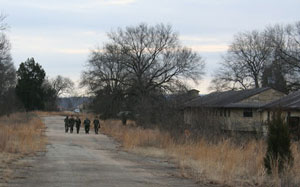 The old hospital was located at Fort Chaffee Arkansas. It had been abandoned for many years. It had originally opened on December 7, 1941 (Pearl Harbor Day). The medical complex itself was an enormous site with 128 buildings all held together by long hallways. We were only utilizing a small portion of it. When new, it was a 1,595 bed hospital. There were still some old bed frames and springs strewn about. Doors, desks, lots of corners, random trees and the long hallways made for a long game of play.
Be Prepared for an Airsoft Workout!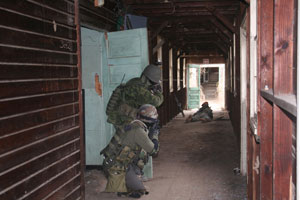 It was a good thing this was "back in the day." I remember it being hot and humid with very few clouds in the sky. It was late spring or early summer, which meant there was also the threat of snakes in the area (I did see one). Water was a necessity as was not getting "hit" three times. You didn't want to have to employ your airsoft kill rag, because making your way all the way back to respawn if you were near the flag your squad was trying to capture was a chore in and of itself. Force-on-force airguns are not for the physically challenged! Long periods of squatting and staying low while being mobile will put a hurtin' on your quads and buttocks. I can say this for sure, and I only got a taste of the physical requirements, it gave me a much deeper appreciation for our military men and women. Thank you all, very much, for your service to our great nation of the United States. RESPECT.
WARNING: Protect Your Mouth and Shield Your Teeth from Airsoft BBs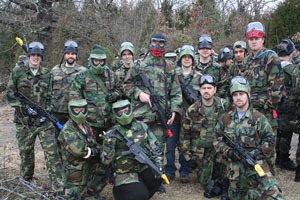 All-in-all my first airsoft event was major fun. I learned quite a bit from those I played with about airsoft ammo management, proper attire, tactical maneuvers and teamwork. Looking back I'm glad I listened to my buddy that helped set me up about having multiple airsoft magazines. One last thing, and this wasn't from my first airsoft experience but my second… I was taking photographs for a project I was working on. There weren't many people involved in this event. I wasn't geared up like the players with airsoft guns and I regret that. Despite players being told not to engage the camera guy, some younger airsoft players did so anyhow. Oh how I wish I had used full gear that day, especially a mouth guard. It was a hot one again. Same location and very dusty, so I had my mouth slightly open to breathe. Before I knew I was the one being pelted with airsoft BBs I had taken a direct hit. It was as if it were in slow motion. I feel the brush of a BB on my upper lip and then hear the crack of a shattering BB, or so I thought. It was actually one of my front teeth. Two-thirds of it broke off and shattered…
Wear full face protection when playing airsoft. Not just airsoft eye pro safety goggles, but a full face shield. If you think you're a man and don't need it, think again. Broken teeth hurt. And getting them repaired is not cheap.
Anonymously by an Umarex USA employee. JB. Okay, not so anonymous.