The Sidearms of Elite Force

The Sidearms of Elite Force®
Whether you are wanting an airsoft sidearm just for the tacti-cool look or for a serious tactical advantage on the field, EliteForceAirsoft.com has a wide selection of airsoft sidearms that can bring the heat in close-quarter battles. Many of our sidearms are one-to-one replicas of real-steel firearms and fit in most standard holsters! With any sidearm, having extra airsoft magazines is a must. Stay in the game and stock up on our selection of drop-free and extended magazines or browse our premium quality 6mm Elite Force airsoft BBs and Bio BBs. Dominate your local airsoft field while dual-wielding Elite Force pistols with extended mags and faux silencers or finish your Desert Storm loadout with a Beretta® M92 A1 airsoft sidearm.
---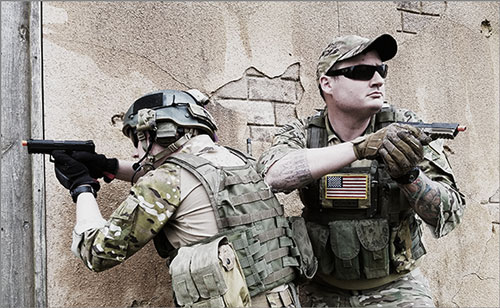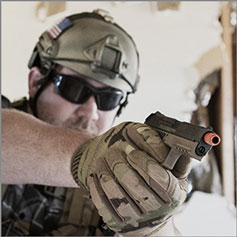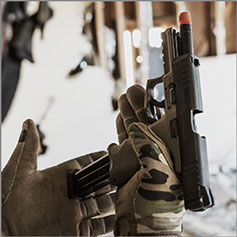 The HK® 45CT Gas Blowback Airsoft Sidearm
Shooting offhand, especially around a corner or when using your non-dominant hand, is made much easier with a tactical sidearm. Being able to make a quick transition from your primary airsoft gun to your sidearm can give you an advantage on the airsoft field. A great option to consider for your loadout is the HK® 45CT. Powered by Green Gas with a capacity of 20 rounds, the full size drop free magazine is easy to load and fill. With a full gas blowback operation, adjustable hop-up, and metal slide, you will be sending rounds from the tightest position with ease.
The HK® VP9® Gas Blowback Airsoft Pistol
When it comes to your sidearm you want a reliable airsoft pistol that can handle close-quarter skirmishes with finesse, something that snipers, DMRs, and LMGs lack due to their bulky profile and/or slow rate of fire. Sidearms allow you a second, potentially higher rate of fire option when it comes to lighting up the field. This VP9® drops serious HK® ergonomics and serious HK® quality into a sweet looking FDE frame. Powered by Elite Force Fuel Green Gas with a capacity of 22 rounds, the full size drop free magazine is easy to load and fill. There's no compromise made with this sidearm. The FDE VP9® features full gas blowback operation, a great two-stage trigger, an adjustable hop-up, and a last round hold open slide.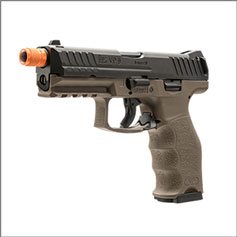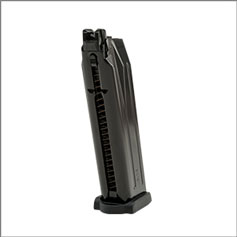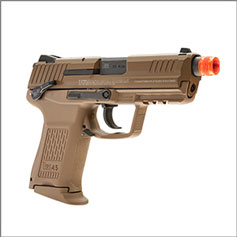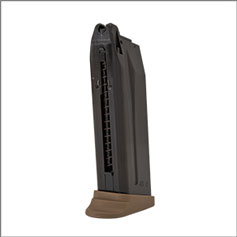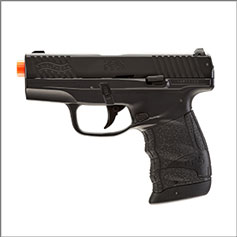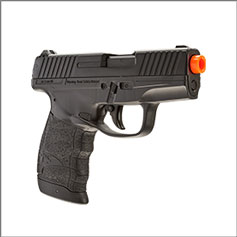 THE WALTHER® PPS® M2 AIRSOFT HANDGUN
The best kept secret in concealed carry is the Walther PPS M2 handgun. Slim, compact, and easy to carry, the Walther® PPS® M2 has the grip, the style, and the function needed to satisfy a discerning population of airsoft shooters. This airsoft replica delivers all the same grip, feel, and blowbak function to make both a great airsoft training aid as well as a great back up sidearm for airsoft competition. This 6mm airsoft version will fit in most holsters designed for the PPS® M2 firearm. The drop free magazine holds 15 Elite Force airsoft BB rounds and the CO2 is housed in the grip.
---