Wouldn't we all like to know the answer to that ammunition in-stock question? The hard truth is that it's not. Those of us in the shooting industry that shoot live-fire rounds in addition to our airsoft obsession are just as hard pressed to find handgun and rifle rounds as those that don't work for a firearm or airgun company. Fortunately for us we still have a small stash of airsoft BBs for internal use and we have shipments scheduled so we can keep a good flow of Elite Force BBs at your local airsoft fields and stores for your local events. We wouldn't be doing our jobs right if we didn't. That's not to say it won't be challenging at times because we're not immune to the increased demand that resulted from the pandemic and ammo shortage.
Airsoft Ammunition for Training and Practice
More and more firearm trainers and civilians that are serious about being safe with their concealed carry handguns and modern sporting rifles for self defense have been knocking on our doors for airsoft ammunition. This indicates that they've adopted using airsoft pistols and rifles in order to keep their skills sharp while still being able to put rounds into a target. While using airsoft in this capacity has been done for a while now it was only during this past year that we really began to see surgence in using airsoft for training. Prior to 2020 the self defence training sector primarily stuck to live fire on static or mechanical targets. In practicing with airsoft a twist on those targets still applies. Alfredo Rico of Guns & Ammo wrote an airsoft blog that includes some targets made for airsoft along with some suggested drills for use with airsoft guns. These targets he shows were made using some household materials for the specific purpose of stopping airsoft BBs.
Practical Drills Using Airsoft Guns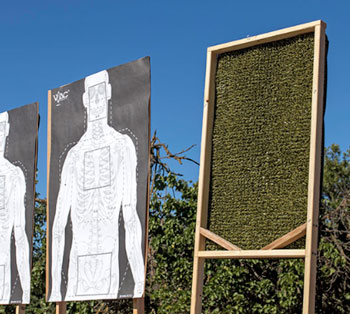 There are some differences between firearms and airsoft guns but none of them inhibit the ability to maintain muscle memory and all of them give you the opportunity to put rounds into a target when it doesn't make sense to use the stash of live-fire ammo you have stored away. Some of these differences lie in the mechanics of the airsoft platform. For instance, they generally don't eject a cartridge and of course the sound they make is nowhere close to the bang and clang a firearm makes. Yet, they're still simple to use and once you've familiarized yourself with their capabilities you can create a training plan that will be most beneficial for you and those in your household. Rick Hogg of War Hogg Tactical defense training developed an airsoft training plan video series available from Panteao. He starts from the beginning just as if you were new to airsoft and walks you through his entire process including an instruction on how to use the air soft guns and how to adapt to their differences. You can get a DVD on airsoft training and practice from the link above or subscribe and stream it along with some other helpful videos from firearms trainers. If you're new to the concept and just getting started with airsoft you can get a taste of the airsoft instruction videos from the Umarex Airguns website and their Practice to Protect page.
The Best Airsoft Gun for Self Defense Practice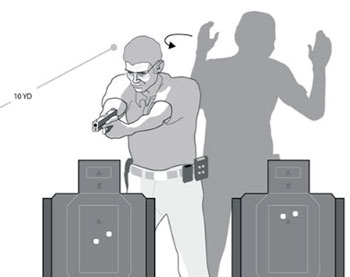 There is no one clear-cut choice when it comes to choosing the best airsoft gun to practice in your home or on your personal property with. The best answer is to get one that matches the most closely with your concealed carry firearm or home defense rifle be it a handgun or AR-type rifle. If you carry a GLOCK then you'll look for the GLOCK airsoft replica model that is closest to yours. The same goes for Smith & Wesson, Walther handguns, and others. When it comes to the rifle you don't have to be as specific in terms of the brand. If you've built your own M4 there are plenty of airsoft rifle training platforms that will fit the bill; however, if you're a Beretta or HK fan boy (or woman) you'll most certainly want to go with one of the high-end replica rifles.
Whichever airsoft gun you choose we do encourage you to watch the Make Ready airsoft video series from Rick Hogg (link above). It will help prepare you for the differences between it and your firearm and will give you knowledge on the power source your new airsoft gun runs on. As we like to say here at Elite Force, #WhatsInYourMag ?
EF Bio BBs of course,
Elite Force Airsoft Staff